Football 7-a-side
Football 7-a-side is one of the most popular and spectacular sports in the world for athletes with a physical disability. Beginning in 1978, Football 7-a-side has spread to many countries, attracting more and more fans.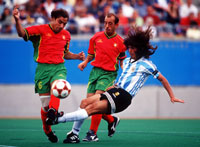 Athletes with cerebral palsy compete in the Football 7-a-side tournament. Every team consists of 12 players. Every Football match is played between two teams with seven players on each side, including the goalkeeper. A Football 7-a-side match lasts 60 minutes and is played in two halves of 30 minutes each, with a 15-minute half time in between. The winner is the team, which scores the most goals.
The rules and regulations of the Federation of International Football Associations (FIFA) and the Football Committee of the Cerebral Palsy International Sport and Recreation Association (CP-ISRA) govern the Football 7-a-side. Athletes with cerebral palsy compete in the sport.