Sailing
Sailing has some of the most enthusiastic supporters worldwide. It is also one of the very few sports in which age does not play a significant role. In fact, the experience gained through years of involvement often enhances the athlete's abilities.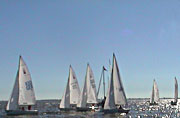 Sailing events take place on waterways, delineated by buoys. These waterways define the courses that competitors have to complete. During the Paralympics Sailing events, athletes compete in Sonar and 2.4mR classes. Competitors face not only their opponents, but also the unpredictability of nature.
Athletes with vision impairment, blind athletes and athletes with a physical disability compete in the Paralympic Games.