Wheelchair Βasketball
Wheelchair Basketball is one of the most spectacular and popular sports of the Paralympic Games. It is distinguished for its unique style, the quick flow of the game and the endless action with constant attacks to the basket and "man to man" defense.
Each Wheelchair Basketball team consists of five players, playing in the court, and seven substitutes. Substitutions take place during breaks in the game. The objective of every team is to score in the opponents' basket and prevent the opposing team from scoring. The winner is the team that at the end of the game has scored the most points.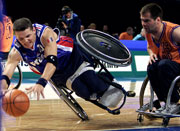 There are only a few differences between Paralympic Games Wheelchair Basketball and Olympic Games Basketball, with regard to the layout and dimensions of the court, the standard equipment and the rules and regulations. The main difference is the use of a wheelchair, which the athlete has to use with dexterity as an instrument with which he can achieve his sporting objectives. Participants in Wheelchair basketball are men and women with spinal cord injuries, amputation, cerebral palsy or other physical disabilities.