Shooting
Paralympic Sport of the Month: Shooting
Shooting is one of the most popular sports worldwide. It requires technical perfection and excellent mental conditioning.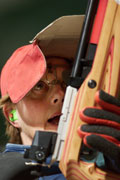 Shooting is open to men and women of all ages on both the recreational and championship levels. It was first included in the Paralympic Games sports program in 1980 in Arnhem.
Both Olympic and Paralympic Shooting are governed by virtually the same rules and regulations. Certain adjustments have been made in the Shooting regulations for the Paralympic Games in order to facilitate athletes with a disability.
Shooting events differ as to the distance, the type of target and arm, the shooting position, the number of shots and the time within which the shots have to be fired.