Wheelchair Rugby
Wheelchair Rugby began in Canada in 1977. Although it is a relatively new sport for people with a disability, it is developing rapidly throughout the world. Wheelchair Rugby is a combination of the pace, regulations and skills required in Basketball and Rugby. The games are held on a basketball ground, and the ball used is similar to the one used in Volleyball.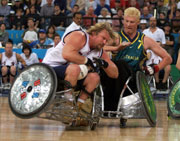 Men and women athletes with a physical disability can participate in Wheelchair Rugby. The athletes are assessed as to their balance and the mobility of the upper part of their body (trunk), the handling of the ball (passing, receiving, dribbling) and the use of the competition wheelchair (fast forward volition, stopping, changing direction). They are graded accordingly.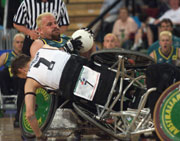 The wheelchairs require constant maintenance during a game because of the hard collisions. Each game consists of four periods of eight minutes each, with intermissions in between. Each team consists of four players and eight substitutes. The objective of each team is to score a goal by touching or passing with the two wheels over the goal line of the opposing team, while holding the ball. The team with the highest score at the end of the game is proclaimed winner. The teams consists of both men and women athletes.
Wheelchair Rugby at the 2004 Paralympic Games
Wheelchair Rugby at the Athens Paralympic Games will take place at the Helliniko Indoor Arena, at the Helliniko Olympic Complex. The competition programme will be completed over a period of six days, from the 19 to 25 September 2004, with the participation of eight teams, while on 22 September there will be no Wheelchair Rugby matches. The competition schedule consists of 24 matches, with 12 qualifying matches, four placement matches, four semi-finals and four finals.